Peter Eustace Medal
Medal Winners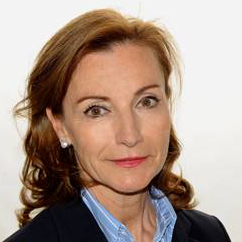 2020 Winner
Gordana Sunaric Mégevand
Switzerland
Gordana Sunaric Mégevand has been an EBO delegate representing Switzerland since 2006. She has served in the EBO Executive committee, first as chair of the CME committee with contributions to major changes in the system of European CME accreditation and then as chair of the Residency review committee. From 2015 to 2017 she had the position of EBO Vice president and collaborated actively on the realisation of the FEBO subspecialty exams, together with Wagih Aclimandos, the initiator of the project.She organised in association with the European glaucomasociety the first FEBOS-glaucoma exam in 2015 and contributed actively at its annual perpetuation as well as the realisation of other FEBOS exams in Europe. Right at the beginning of her term as EBO president she proposed the creation of an EBO advisory board, a new body that would have a consultancy and advisory role to the EBO Executive committee, constituted by former EBO presidents. She and her Executive committee colleagues nominated the first four members of the Advisory board in January 2017 for a four-year term. Gordana Sunaric Mégevand initiated the concept of standardized Viva voce questions for the FEBO exam and promoted their elaboration throughout Europe. During her presidency she chaired the establishment of the EBO syllabus, realised by the Education committee.
Gordana Sunaric Mégevand is the chair of the Program planning committee of the European Glaucoma Society and co-chair of the certification committee of the same society. On a national level, Gordana Sunaric Mégevand is the president of the Education Committee of the Swiss Ophthalmological Society. She currently directs the Clinical Eye Centre Florissant in Geneva and is medical Director of the Eye Research Centre A. De Rothschild.
2019-Wagih Aclimandos, UK
2018- Costantino Bianchi, Italy
2017- Roger Hitchings, UK
2016- Jóse Luis Menezo, Spain
2015- Marie-Jose Tassignon, Belgium
2014- Jack Kanski, Poland
2013- Marko Hawlina, Slovenia
2012- Jean-Jacques De Laey, Belgium
2011- Gisele Soubrane, France
Peter Eustace Medal was established by unanimous decision of General Assembly of the European Board of Ophthalmology (EBO) in Tallinn on 20th June 2010 as a token of appreciation of the efforts of Peter Eustace from Ireland who established the first EBO diploma examination in Milan in 1995. Peter Eustace Medal is given to an ophthalmologist who has devoted long term and exceptional efforts towards upgrading education in ophthalmology in Europe.